[This article has been updated with additional project information from HDB on 17 November 2020. The Nov 2020 Bidadari BTO sites will be named Bartley Beacon and ParkView @ Bidadari]
[4 November 2020 update: The design for the funeral parlour near the Bidadari BTO has been unveiled. We have amended our review to reflect that.]
The upcoming HDB November 2020 Build-to-Order (BTO) sales exercise will feature five projects comprising a total of 5,770 units. The Bidadari BTO is one of three projects in mature estates that will be launched, and will consist of two sites: a larger one nearer to Bartley MRT (Bartley Beacon) and a smaller one nearer to Woodleigh MRT (ParkView @ Bidadari).
Previously, we'll refered to the two Bidadari BTO sites as as Bartley Site (Bartley Beacon) and Woodleigh Site (ParkView @ Bidadari). Bartley Beacon is about 4.36 hectares in area and is expected to house 880 units. The smaller ParkView @ Bidadari site is about 2.23 hectares and could house 350 units.
Here's 99.co's detailed review of the Nov 2020 Bidadari (Toa Payoh) BTO:
Project Names: Bartley Beacon (Bartley Site) and ParkView @ Bidadari (Woodleigh Site)
Location: Bartley Beacon – Along Mount Vernon Road; ParkView @ Bidadari – Along Upper Aljunied Road
Classification: Mature estate
Number of units: 1,238 across 2 sites (880 units at Bartley Beacon and 358 at ParkView @ Bidadari)
Blocks: Bartley Beacon – 8 residential blocks with heights ranging from 14 to 17 storeys; ParkView @ Bidadari – 3 residential blocks of 16 storeys
HDB's estimated completion dates: Q1 2025 (ParkView @ Bidadari) and Q2 2025 (Bartley Beacon)
Indicative price range (excluding grants):
3-room: $324,000 to $397,000
4-room: $466,000 to $598,000
5-room: $627,000 to $726,000
[Updated 17 November 2020. These are the official prices.]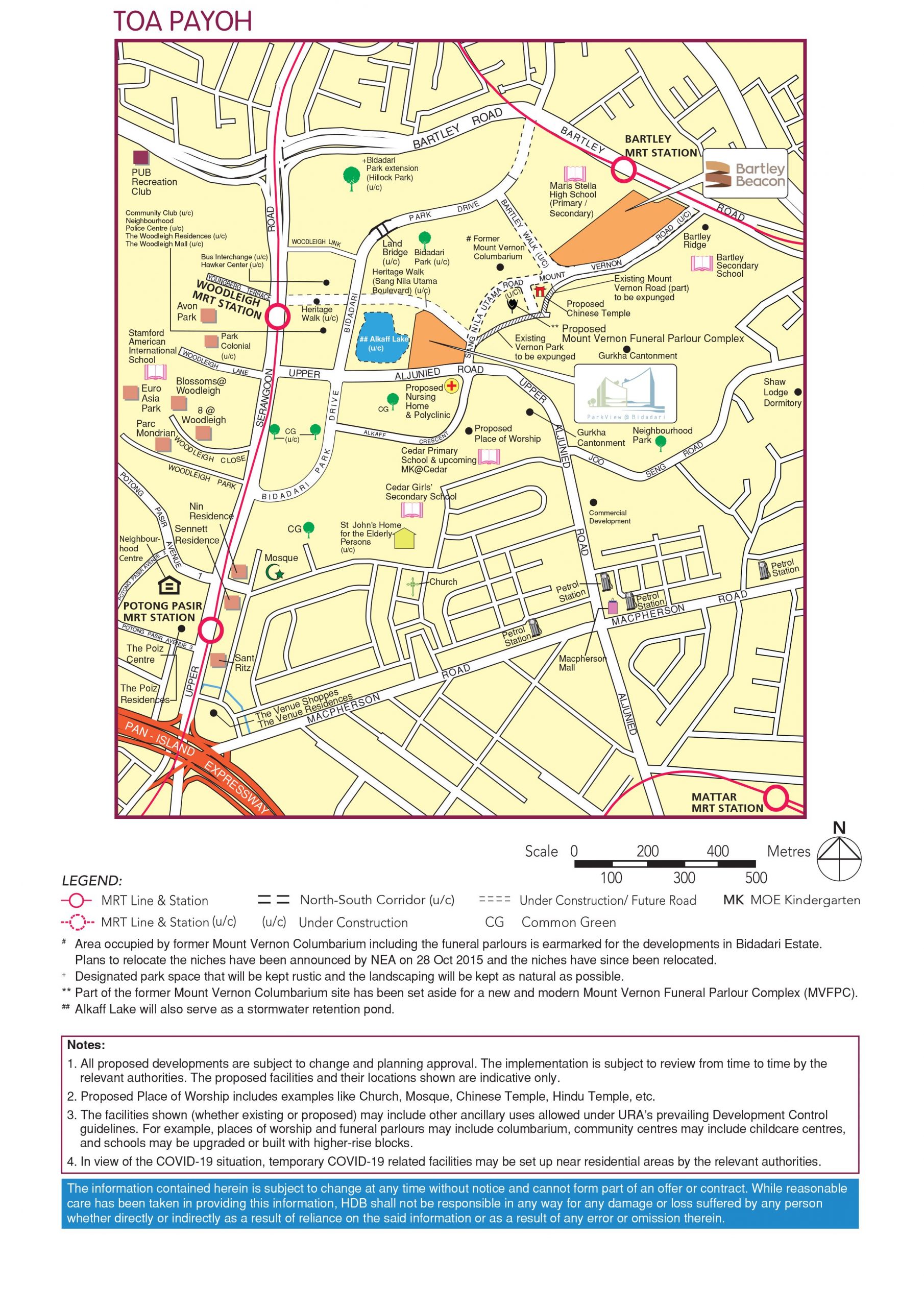 Introduction:
If you've always wanted to ballot for a BTO in the new yet mature estate of Bidadari, this is actually your second last chance to do so:
2nd last BTO launch (November 2020): 1,238 units
Final Bidadari BTO launch (February 2021): 1,200 units
So, if you want to live in Bidadari, the safe thing to do is to ballot for this one – which will surely be oversubscribed. If you don't get a queue number, you can always ballot again for the one next February.
Also, the allure of the Bishan BTO development in the November 2020 sales exercise will take some of the heat off the Bidadari launch. Here's the site plan for both developments.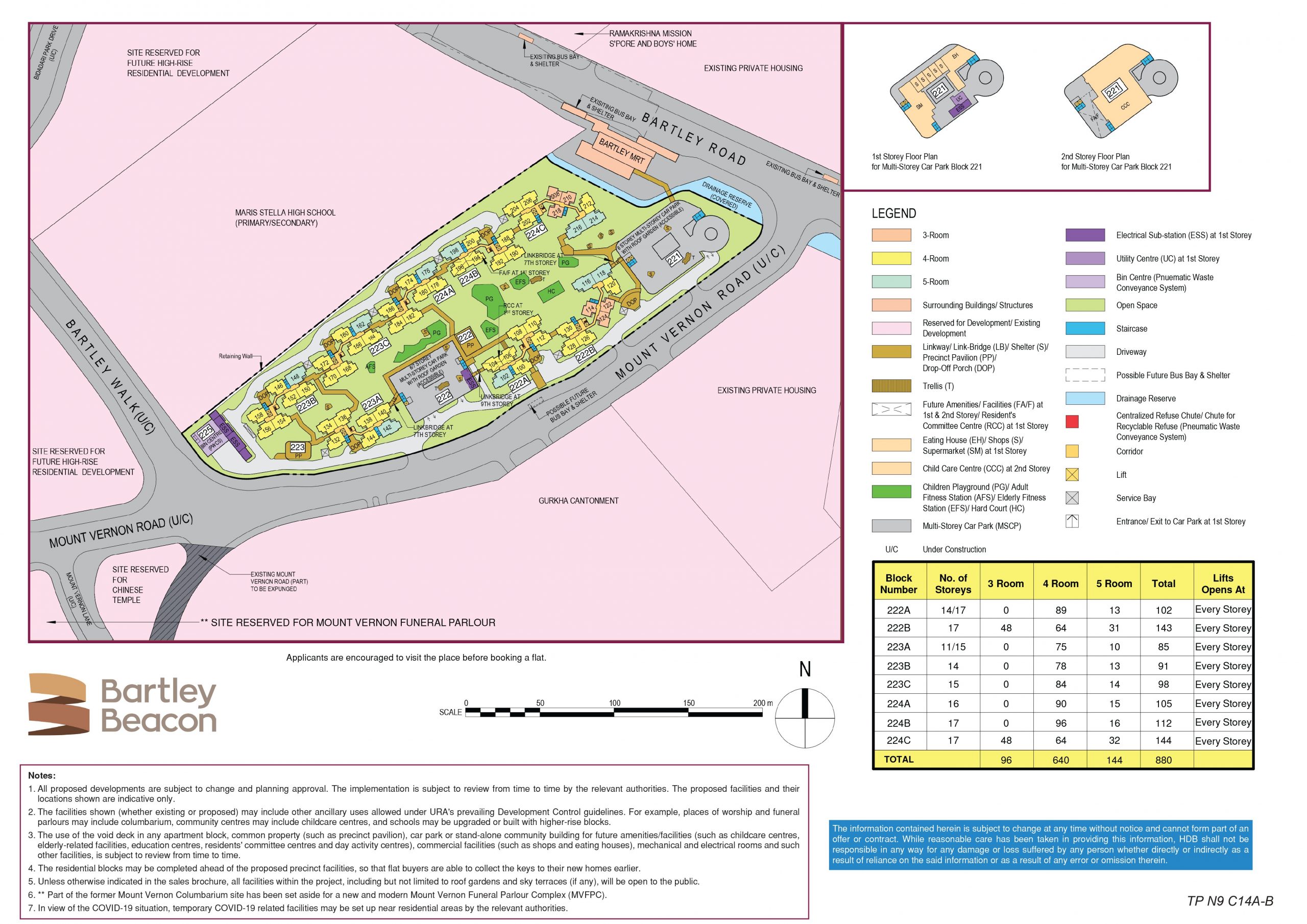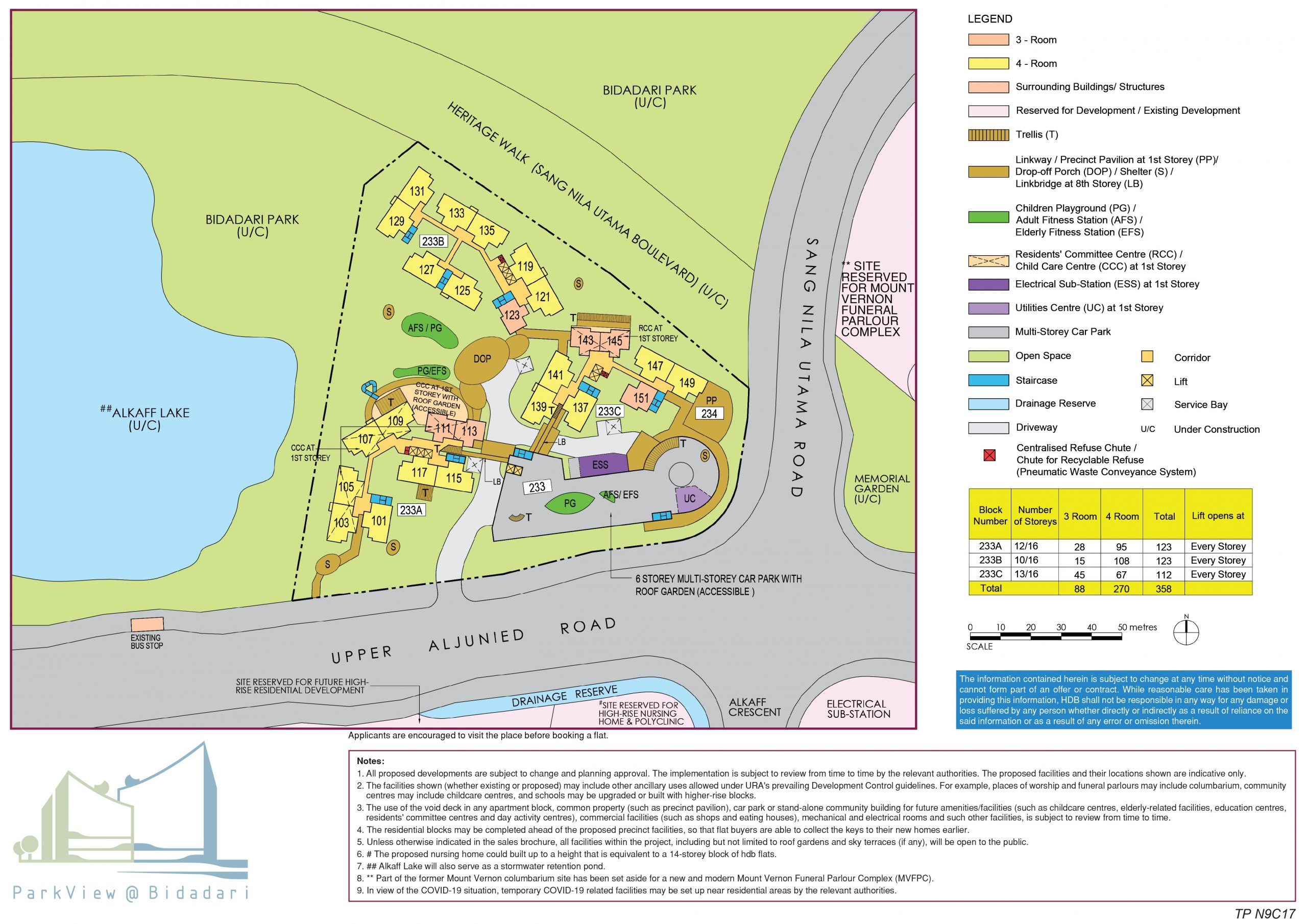 Let's first look at the pros and cons of the Bidadari BTO to help you decide which to apply for.
The Pros:
Both sites are near MRT stations, but the Bartley Beacon clearly has the edge. The entrance to Bartley MRT on the Circle Line is right next to the plot (no crossing of roads needed) and residents will be anywhere between a one- to four-minute walk to the MRT, depending on which block they're staying at. All residents will have a fully-sheltered route to the MRT station.
ParkView @ Bidadari, while within a respectable five-minute walking distance to Woodleigh MRT on the North-East Line (NEL), requires a little more effort to get to. Residents will have to walk around Alkaff Lake, cross a road, and walk around or through The Woodleigh Mall to get to the train station. It's a longer walk that can still be pretty enjoyable, though.
ParkView @ Bidadari is three-minute walk away from the The Woodleigh Mall, which will also house an integrated transport hub with an air-conditioned bus interchange and linkage to Woodleigh MRT station. Residents at Bartley Beacon need not fret; being right next to Bartley MRT puts them within ten minutes of the bigger and better NEX mall at Serangoon.
Bartley Beacon residents are also within 15 to 20 minutes to the commercial and retail hub at Paya Lebar, whereas ParkView @ Bidadari residents are within 15 to 20 minutes to Dhoby Ghaut and Plaza Singapura.
The larger site at Bartley also has more amenities within the BTO project itself than the ParkView @ Bidadari. At the minimum, we expect the development to include a childcare centre, multi-purpose courts, a kopitiam, shops and a minimart. And we expect the kopitiam and shops to be located near to the Bartley MRT entrance.
Speaking of amenities, the ParkView @ Bidadari is right next to Bidadari Park. No more excuses to skip that daily run.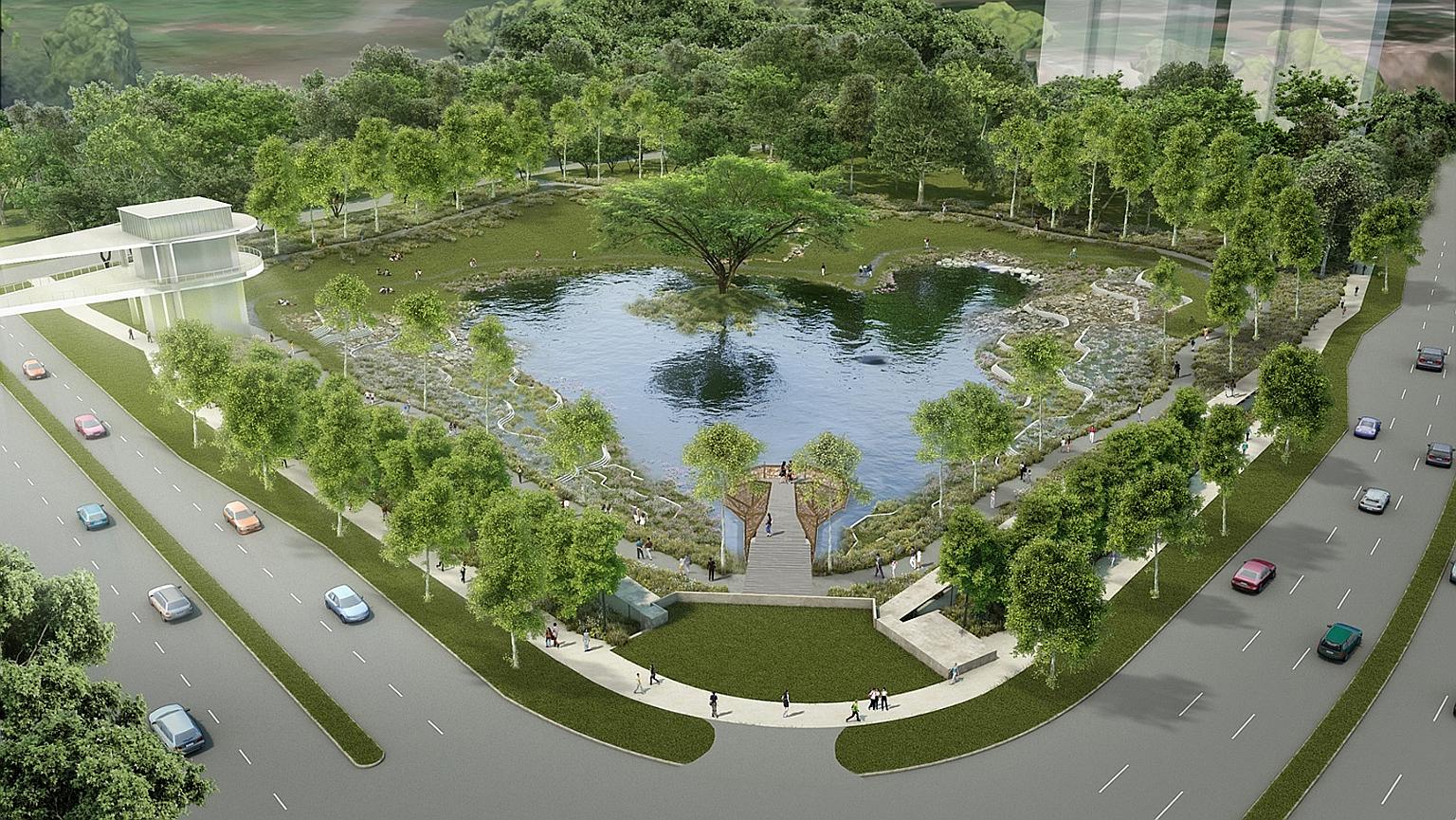 Once in a while, mature estate BTO projects will be located near well-regarded schools. This is no exception. Both Bartley and Woodleigh plots are within 1km of the all-boys Maris Stella High School (Primary and Secondary), the mixed-gender Cedar Primary School (next to Cedar Girls' Secondary School), St. Gabriel's Secondary School and Bartley Secondary School.
Views. Two sides of the triangular-shaped ParkView @ Bidadari offer superb greenery views towards Bidadari Park and Alkaff Lake (a beautified stormwater retention pond), whereas a fair number of higher floor south-facing stacks at Bartley Beacon will have unblocked views over the lush Gurkha Contingent compound. For the same site, a handful of mid and high-floor units in the north-facing stacks will enjoy a glorious unblocked view over the Bartley landed estate.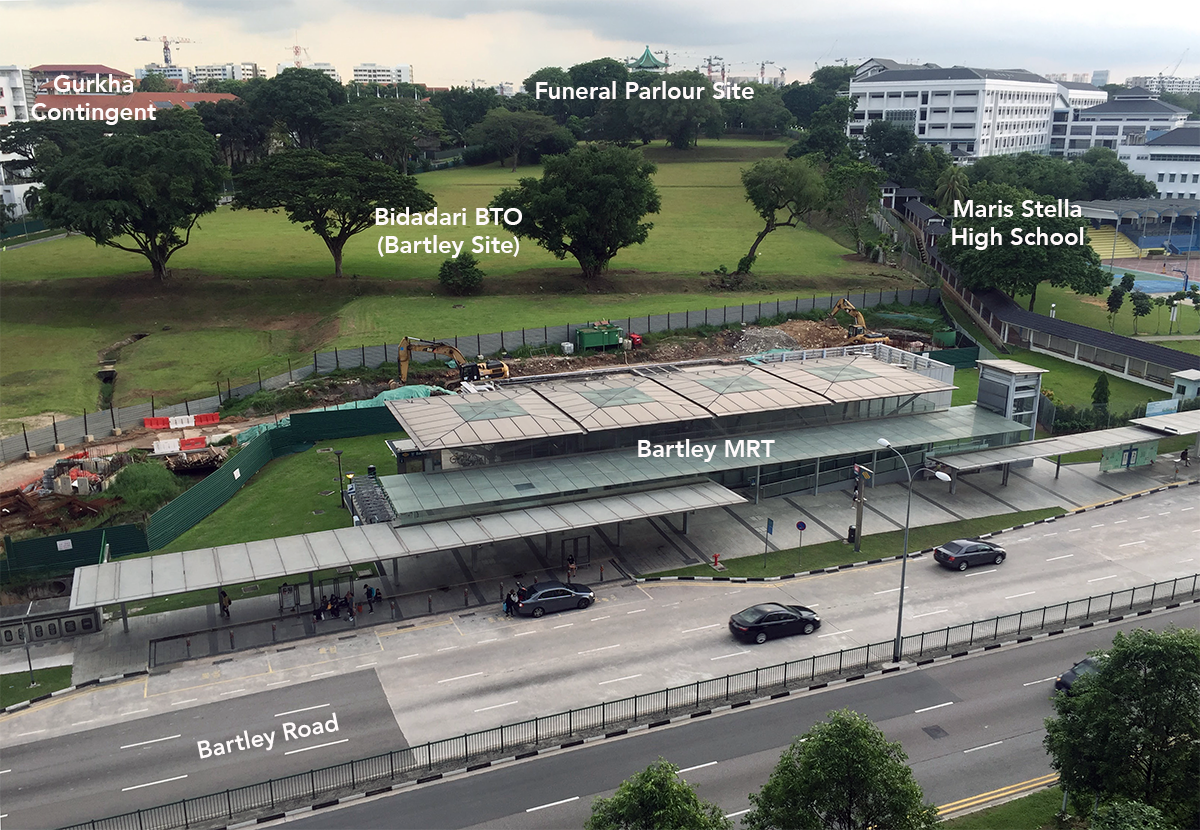 Bartley Beacon's residents will benefit from having a supermarket within the development. The supermarket will be conveniently located in the amenities block located next to entrance of Bartley MRT. The block will also have shops and a kopitiam.
For those looking at five-room flats, Bidadari is so far the only mature estate in the central region to offer such flats. (Here's an article that sheds more light into why HDB doesn't build five-room BTO flats in other central region mature estates.)
Recommended article: Quick Guide to BTO and Resale HDB Grants for Couples [2020 Edition]
The Cons:
Will be highly oversubscribed (but you know that already).
Things can get pretty quiet and deserted at Bartley Beacon at night, but some like it that way.
That said, stacks facing Bartley Road will have to suffer noise from heavy traffic. There's also a high incidence of speedsters here in the wee hours.
At Bartley Beacon, views from stacks 146, 148, 158, 160, 162, 172, 186, for units on the 8th floor and below, will be blocked by the classroom blocks of Maris Stella High School.
At Bartley Beacon, stacks the open-air hard courts of Maris Stella High School can get noisy at times, in addition to receiving some traffic noise from Bartley Road. (However, stacks in these blocks are nearer to the MRT entrance, so it's a trade off)
Good schools, yes, but still only two primary schools within 1km (including one all-boys school) and plenty of new young family residents in Bidadari to fight for places.
For Bartley Beacon, stacks right next to the all-boys Maris Stella High School might get more noise during school hours, and perhaps after school when co-curricular activities are conducted. At the start and the end of school days, traffic on Mount Vernon Road will also be heavy, with parked cars lining the pavement. (With both primary and secondary campuses, the school has one of the largest intake of students in Singapore.)
Bidadari in general could get pretty crowded. Taking the North-East Line (NEL) during peak hours from Woodleigh MRT station is most likely be a headache, especially if you are travelling into the city. Good news: the Circle Line is typically less crowded and new stations in the CBD—Keppel, Cantonment and Prince Edward—will open in 2025.
There will be certain blocks in both sites that will be within 200 metres of the upcoming Mount Vernon Funeral Parlour Complex (to be completed by 2025). The complex will house 12 funeral wake halls, funerary goods shops, and a seminar room. There will also be a food and beverage outlet that's open to the public. But most significantly, "there will be no columbarium or crematorium located within the complex", said the National Environment Agency and HDB.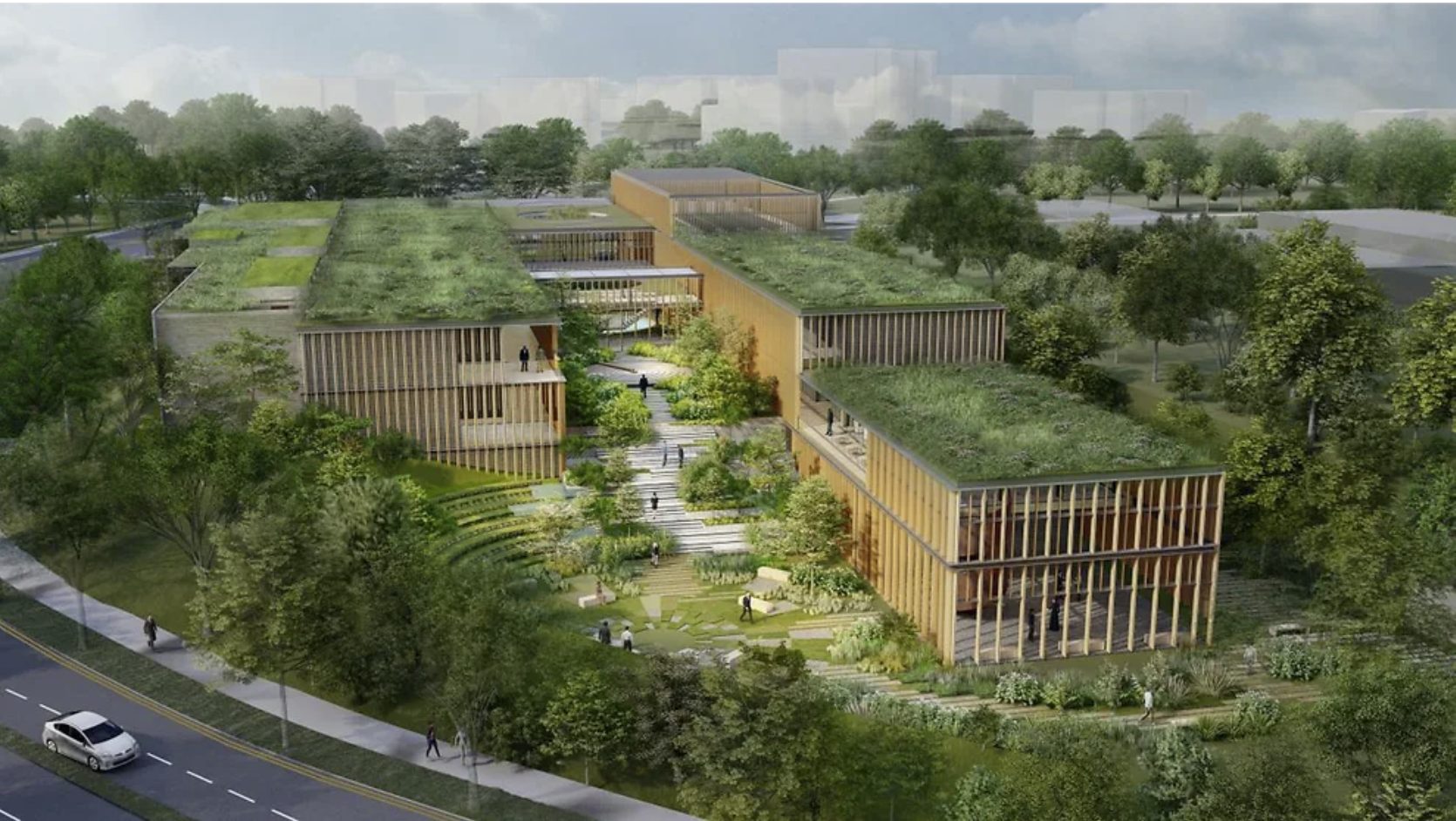 At ParkView @ Bidadari, stacks 119, 121, 147 and 149 will face the direction of the funeral parlour complex. The image above gives a pretty good indication of what higher-floor residents will see if they look out of the window.
At ParkView @ Bidadari, stacks facing the Alkaff Lake and Bidadari Park are great. Stacks that don't, on the other hand, are quite unattractive, with road-facing and some units even directly facing the multi-storey car park.
Most blocks at Bartley Beacon and one block at ParkView @ Bidadari is served by only two lifts. Bad news especially if one breaks down or is under maintenance.
Owners who are planning to sell their flats after the Minimum Occupancy Period (MOP) will face stiff competition. Supply (especially for lower floor units) will likely overwhelm demand, too, so you might not be banking in as much profit as you expect. Perhaps it's wiser to live here a little longer before selling the flat.
Important note:
As usual, the choosing of units is on a first-come-first-serve basis. This means applicants for this Bidadari launch will choose between the two sites based on their queue number.
If you would like to get your keys a little sooner, go for flats at the smaller ParkView @ Bidadari site, which is expected to be completed by Q1 2025.
At Bartley Beacon, only three blocks (222A, 222B and 223A) are connected to the multi-storey car park via link bridge. Meanwhile, two out of three blocks at ParkView @ Bidadari are connected to the multi-storey car park via link bridge.
What else we noted about the Bidadari BTO sites
Not to be a wet blanket, but you missed out on the cheaper Bidadari BTO sales launches. Better late than never, though!
Want the least expensive units here? That'll be the ones at the Bidadari Site, furthest away from Bartley MRT and incidentally also closest to the Chinese temple/funeral parlour. But expect no more than a $10,000 price difference.
As we mentioned earlier, there will be another Bidadari launch in February 2021. That being said, we feel this November 2020 launch is a better choice. One of the three sites in 2021 is super-near to the proposed Mount Vernon Funeral Parlour Complex – something Singaporeans might want to avoid. The Woodleigh site in the subsequent 2021 BTO sales exercise not too bad though.
The best bet for unblocked views are 4th floor and above units for stacks that overlook the Gurkha Contingent compound.
There's a proposed health and medical centre next to ParkView @ Bidadari. The government has announced that it will be an integrated facility comprising a polyclinic and a nursing home.
Bartley Beacon is pretty removed from the action in and around Woodleigh MRT and the Woodleigh Mall. It's a 9- to 13-minute walk away and there are no confirmed bus services yet. Residents will find themselves going to NEX a lot more often, not that they'd mind.
There will be a new kindergarten (MOE Kindergarten @ Cedar), which is located nearer to ParkView @ Bidadari.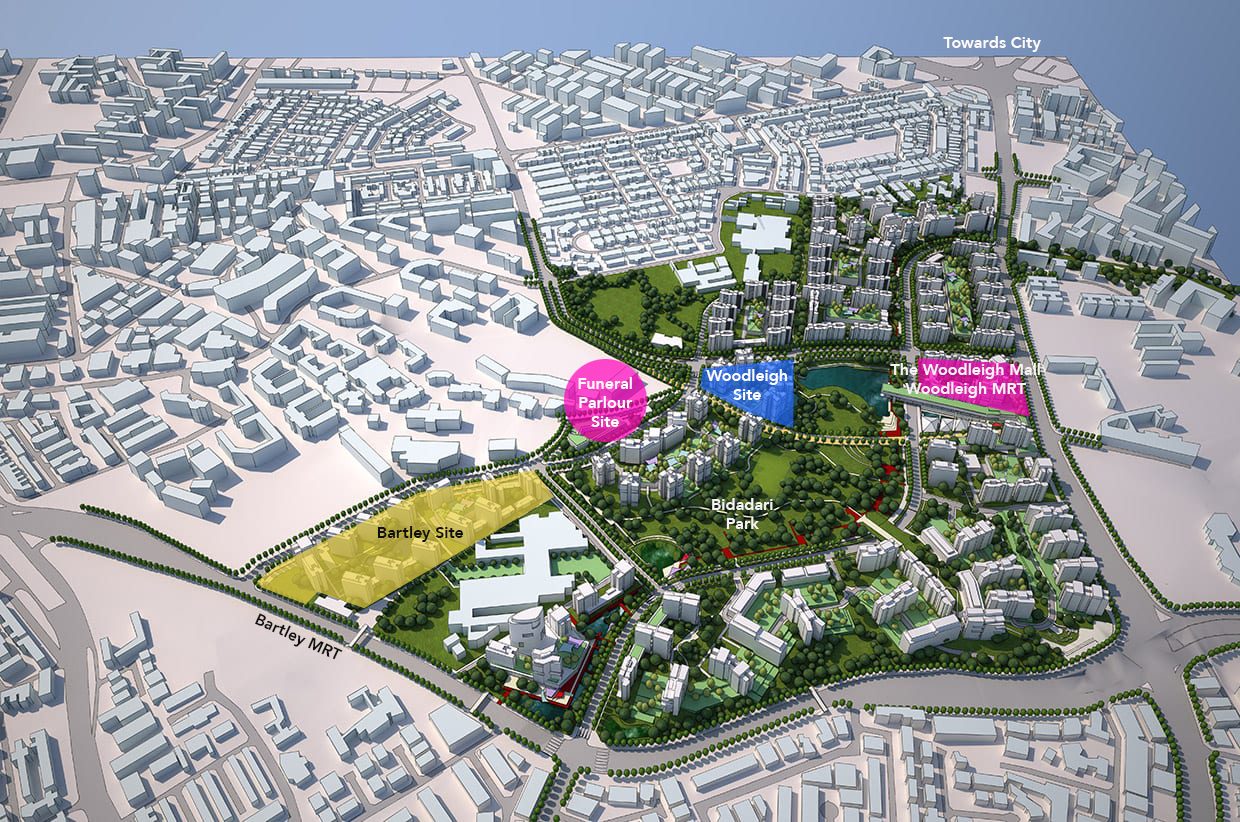 Our verdict on the Nov 2020 Bidadari BTO
Because of the Bishan flats in the same BTO sales exercise, we'd say the Bidadari BTO flats are actually pretty underrated. As a matter of fact, Bidadari is closer to the city than Bishan, so homes here should rightly be worth slightly more in terms of dollar value.
If you're lucky enough to get a good queue number, which of the two sites should you choose? If you want to: be part and parcel of Bidadari and rub shoulders with fellow Bidadarians, be able to get a unit with a good view of the park/lake and can more easily access your workplace and/or favourite hangouts via the NEL (versus the Circle Line), then pick a unit at ParkView @ Bidadari by all means.
Purely in terms of connectivity, we feel that Bartley Beacon is the better of the two sites. Not only can the Circle Line connect residents to FIVE other train lines in under 15 minutes (Thomson East-Coast Line at Caldecott, North-South Line at Bishan, North-East Line at Serangoon, Downtown Line at MacPherson and East-West Line at Paya Lebar), it also offers residents quick access to the massive employment areas of Tai Seng, MacPherson, Ubi, Kaki Bukit and Paya Lebar, while still being one of the least crowded MRT lines in Singapore.
Moreover, with the opening of the three city-centre stations of the Circle Line in 2025, we expect property values near Circle Line stations to get a slight boost. Residents will also certainly welcome the fact that the Circle Line is, finally, a full circle.
Bartley Beacon is also advantageous for motorists, because of direct access onto the radial semi-expressway Bartley Road, and easy access to Central Expressway (CTE) and Kallang-Paya Lebar Expressway (KPE). We're splitting hairs, though.
In general, we'd say that availability of schools for Bidadari BTOs is just average, considering there will be about 10,000 households here when the town is fully built up in the mid-2020s and only a few schools at each educational level.
Bidadari Nov 2020 BTO: Should you apply?
Dollar-for-dollar, while the $10 BTO application fee is certainly worth a punt, the Bidadari BTO flats certainly don't come cheap. In fact, you can actually get a resale flat at Potong Pasir (built 1980-1985) and Serangoon (mostly built 1985-1989) for cheaper or similar prices, factoring in the fact that there are more grants for buying resale flats.
In particular, young couples planning to have children might want either a BTO or resale flat with a greater choice of schools within 1km.
Also, not only are resale flats typically more spacious, they might also be nearer to amenities and enjoy superb connectivity. An example is the HDB cluster at Lorong Lew Lian in Serangoon. Here, 4-room resale flats with 57 years of remaining lease are on the market at prices from around $420,000 to $490,000. And these flats are all within five minutes' walk to Serangoon MRT/NEX.
Yes, remaining lease may hinder capital appreciation. But, then again, we always advise homeowners not to rely on their own-stay property as a nest egg, whether it's a HDB flat or a condo unit!
Before you apply, check out our other Nov 2020 BTO reviews:
Bishan
Tampines
Sembawang
Tengah
Get ahead of the property market by following the official 99.co Facebook page!
Looking for a property? Find your dream home on Singapore's most intelligent property portal 99.co.
The post HDB Nov 2020 BTO In-Depth Review: Bidadari (Bartley Beacon + ParkView @ Bidadari) appeared first on 99.co.